Description: Innovid's team of experts has developed a comprehensive onboarding to support your team. This onboarding process has multiple phases, and this article will walk you through the detailed approach to working directly with Innovid's ad management platform. Please note that while this article primarily focuses on standard ad serving, Innovid offers additional creative and measurement capabilities to meet the needs of your unique business objectives.
---
Overview: Onboarding Process
Below are the general phases of the onboarding process. Of course, if nuances or additional areas need in-depth discussion, Innovid's team is here to support you.
Client

 expresses interest in working directly with Innovid's ad management platform.

Innovid and the client will discuss all business goals and KPIs. This meeting will also determine if additional training sessions are required.

Recommendation: 

Begin these conversations ~ 30 days before being enabled to work directly in the platform traffic digital ad campaigns.

Innovid

 grants access to the Innovid Learning Management System (LMS): Innovid Ad Serving.

Client

 accesses our LMS certification, which is self-guided through video content and quizzes. When finished, users receive a certificate of completion.

Note: 

Certification takes ~ 1 - 2 hours (depending on the user's pace).

Client

 completes certification and confirms with the Innovid team.

Innovid

 will follow up with a live training session (typically virtual) specific to the client's nuances and setup.

This session will include live platform features/workflow examples to ensure your team feels confident to begin trafficking.

Innovid will record the session and send it to the Account team to review as needed moving forward.

Client 

will have ongoing support from several resources, including the Help Center and Innovid team.

Upon completion, your teams can navigate our Help Center, which includes articles, videos, step-by-step tutorials, and more.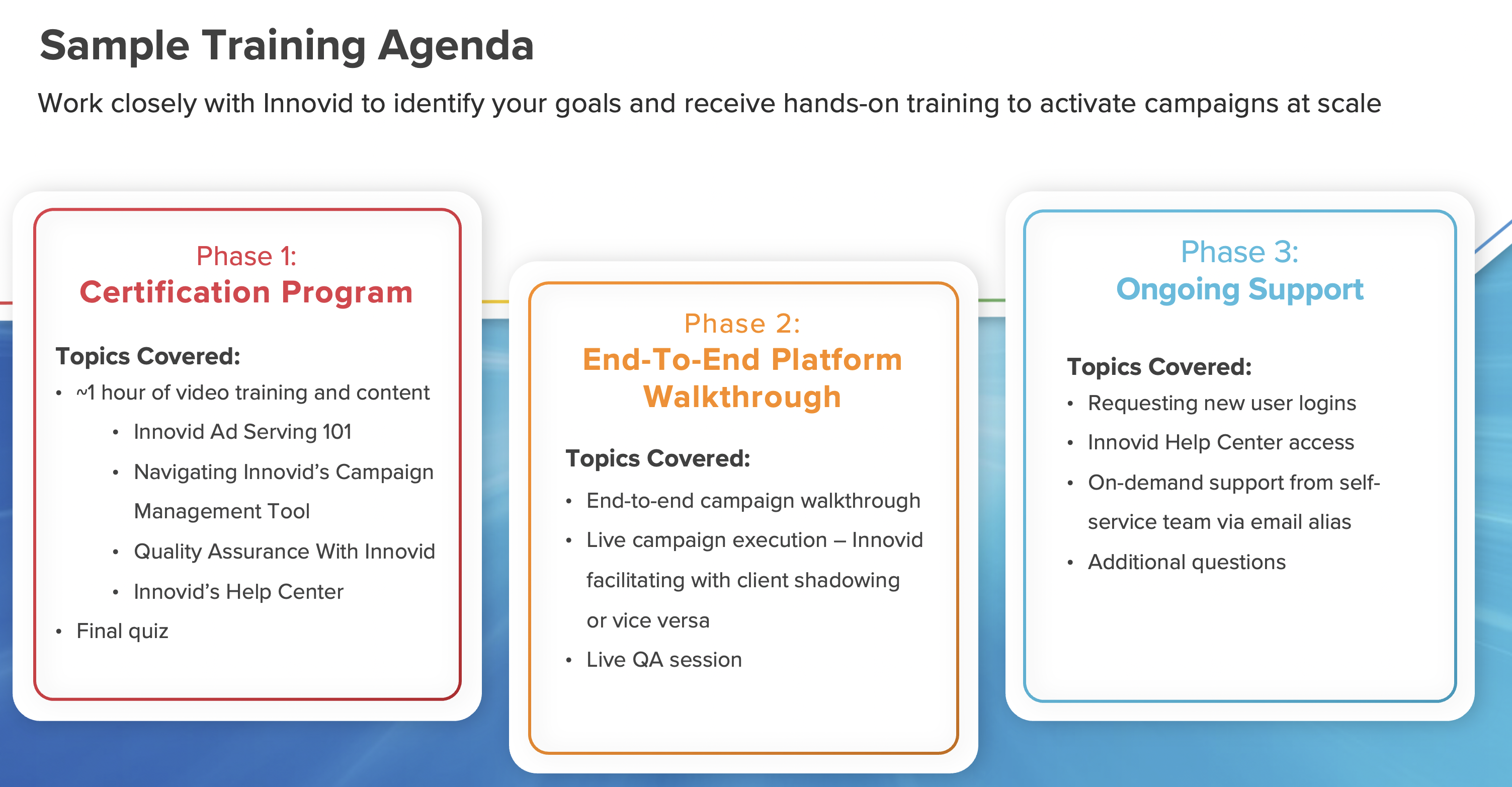 Note: The above is for standard digital ad trafficking. If clients are interested in DCO campaign executions, there are a few additional trainings to cover the details of DCO campaigns.